QLD LEGISLATION

EXISTING

LANDLORD REQUIREMENTS
Following from existing landlord requirements, it is the landlord's responsibility to have all smoke detectors tested, cleaned and replaced (should replacement be required) within 30 days before the start of a new tenancy agreement or renewal of a tenancy agreement.  Ongoing maintenance is also required to ensure smoke alarms are in good working order.
QLD LEGISLATION

UPGRADE

REQUIREMENTS
(Effective 1st January 2022)
Smoke detectors must be installed in every bedroom and hallway that connects bedrooms to the remainder of the dwelling, if there are no bedroom on a storey, at least one smoke detector is required to be installed in the most common path of travel.
All smoke detectors myst be photoelectric (AS3786:2014)
All smoke detectors must be powered by hardwired/240V OR 10 year lithium battery operated.

All smoke detectors installed must be interconnected to each other; wireless interconnected bases allow hardwired alarms to register with the 10 yr lithium operated alarms.  A combination of harwired and lithium battery operated alarms is suitable when a harwired 204V alarm cannot be installed (due to cabling/access)
CAPITAL ELECTRICAL PROPERTY MANAGERS PORTAL
Property Managers an now access the Capital Electrical Smoke Alarm portal.
This handy portal allows Property Managers to ensure properties are 2022 compliant.  Print a certificate, book an upgrade, schedule a new tenancy or add/delete properties.
The smoke alarm portal is another way Capital Electrical is helping keep your properties compliant.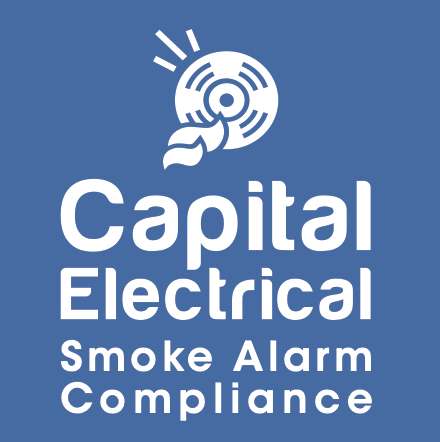 GOLD COAST ELECTRICIANS & BRISBANE ELECTRICIANS
Looking for a Brisbane electrician or a Gold Coast Electrician for your after hours electrical job?  Need an electrician to rewire your switchboard?  Looking for an air conditioner installer?  Smoke alarm upgrade?  Capital Electrical Gold Coast electricians and Brisbane electricians are available 24/7 for your electrical work.
Call Capital Electrical 1300 785 936